Happy Holidays!
We would like to announce the dates for our 2011 Holiday Open Studio Sale at Bernard Katz Glass.
Please consider us when thinking of that special unique quality hand-made gift.
Why consider us?
Local

– Like fresh baked bread, we make everything from scratch right here!

Unique

– Yes, "unique" is an overused word… but it is still the best way to describe our hand-blown glass.

Personality

– If you have been to our studio, you know every piece brings with it a story.

Quality

– They don't call us "Philadelphia's premier glass studio and gallery" for nothing!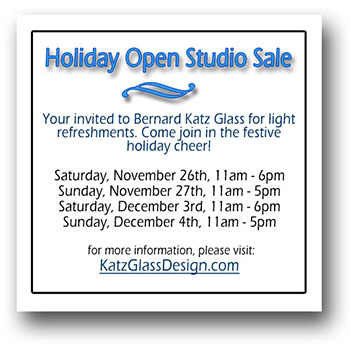 For more information, don't hesitate to contact us, or click the link to our local sister website, KatzGlassDesign.com, for more detailed information.
Once again, happy holidays and we hope to see you!
-Bernard and Katie Katz