See inside Bernard Katz Glass studio and gallery!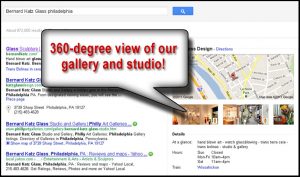 Google's new Business Street View is up and running. If you are familiar with Google's Street View , then the new " Business Street View" actually gives you a 360-degree view of inside a business or place.
Still very new, so only select cities and a small amount of businesses are included. Bernard Katz Glass in Philadelphia happens to be one of those selected businesses!
It is connected through our local Philadelphia sister website – Katz Glass Design.com
To see a 360-degree view of our gallery and glass studio hot shop area, click on the below photos or this link.
A Google search for " Bernard Katz Glass Philadelphia", will also have the map and business street view on the right side of the page as shown on the very top photo.
** I found that it works best to view this feature using either Firefox or the latest version of Internet Explorer.
Even with this being a cool way for someone to see parts of the inside of our studio… it does feel a little creepy at the same time.
– Bernard Katz