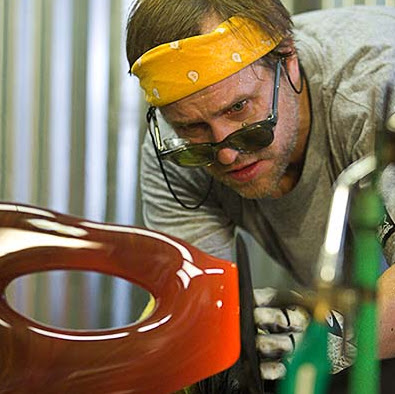 Bernard Katz employs a wide range of techniques to create his contemporary art glass sculpture.
Bernard is often asked about his inspiration for his artwork. Earlier works of art from the Tree & Root Series along with the Foliage Vessels referenced objects found in the natural world.
In recent years, Katz's hand blown glass artwork has transformed from decorative vases and vessels to more sculptural forms. The Melange Series is a prime example in this artistic direction.
This series combines soft glass forms with positive and negative space to create a "communication" between the blown glass forms.
The sculptural work found in his
Color Collections
combines transparent glass with opaque glass. The frosted transparent glass diffuses the ambient light. This creates a soft glow and dynamic contrast within the glass.
An American glassblower, artist, and sculptor, Bernard Katz has established a dynamic yet distinct style. His work can be found in public and private collections the worldwide… Including the United States, Canada, Hong Kong, Saudi Arabia, Turkey, Great Britain. His work is among the art collection of 2004 Nobel Peace Prize winner, Wangari Maathai.
Bernard has been the subject of interest in numerous books and magazines which have featured the artist. He has exhibited in the top art shows in the United States including The Smithsonian Craft Show, Philadelphia Museum of Art Craft Show, and Long's Park Art & Craft Festival.
The Beginning:
Bernard Katz has been working in hot glass for over 20 years. He graduated from Temple University's Tyler School of Art specializing in glass blowing and sculpture in 1989. He also attended the West Surrey College of Art & Design in Farnham, England.
Following graduation, Bernard  began working in glass studios around the United States before setting out on his own.
In 1993, Bernard Katz established his glass studio in the historic section of Manayunk in Philadelphia PA. In 2002, his wife, Katie Katz, joined the design team of Bernard Katz Glass. Together, They design contemporary art glass sculpture. In 2016, Bernard Katz Glass moved to the current location in Bridgeport, PA, just outside of Philadelphia.