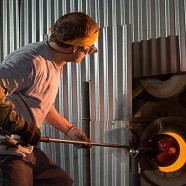 Read about the latest news and features from our glass studio and gallery. Find out about events and upcoming shows. Explore our blog for inspiration, thoughts, and finds from us and our friends.  See our new guide about the different Types of Glass Art and the common ways in which they are made. Our Lighting Art Guide gives great tips on how to light art glass.
Latest News and Features
Upcoming Events
Our Blog
Lighting Art Guide
For specific news and information, please click any of the above links
We are proud to announce that the glass sculpture by Bernard Katz is being exhibited at the Fountain Restaurant located in the Four Seasons Hotel Philadelphia. Since the Fountain Restaurant is considered one of the city's – and the country's – best restaurants, we were honored to be asked to have our artwork represented in such a legendary place. Knowing the long standing reputation of this Philadelphia landmark, and knowing that our glass artwork would play an integral part in creating an ambiance that is expected by...
read more