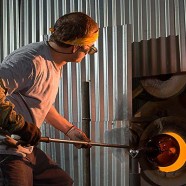 Read about the latest news and features from our glass studio and gallery.
Explore Our Blog and Videos for tips about handmade glass and art… Along with articles about the inspiration and influences behind making our glass sculpture.
Bernard also writes about the creative process in Our Blog. Some favorites include:  Can't Draw a Straight Line,  Is This Piece Perfect?, and  Is it Art or Craft?
See our new guide about the different Types of Glass Art and the common ways in which they are made.
Our Lighting Art Guide gives great tips on how to light art glass.
Latest News and Features
Upcoming Events
Our Blog
Lighting Art Guide
For specific news and information, please click any of the above links
Creating a successful glass sculpture installation project involves many aspects. However, the importance of listening should not be forgotten. Working One on One We enjoy working one on one with residential customers and glass collectors. We appreciate knowing that someone wants to include our work in their lives. Sometimes customers contact us knowing exactly which pieces or groups of work they want. Many times, however, a customer's needs may not be so clear. In other words, they are interested in our work, but are not sure what will...
read more