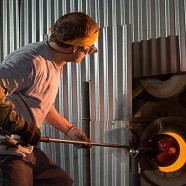 Read about the latest news and features from our glass studio and gallery.
Explore Our Blog and Videos for tips about handmade glass and art… Along with articles about the inspiration and influences behind making our glass sculpture. Bernard writes about the creative process in such posts as Can't Draw a Straight Line,  Is This Piece Perfect?, and Is it Art or Craft?
See our new guide about the different Types of Glass Art and the common ways in which they are made.
Our Lighting Art Guide gives great tips on how to light art glass.
Latest News and Features
Upcoming Events
Our Blog
Lighting Art Guide
For specific news and information, please click any of the above links
The photos of this sculptural glass and granite art installation were taken prior to shipping to Germany. The installation of this project is on board a new luxury cruise ship, Norwegian Getaway – NCL. The location is Cagney's Steakhouse within the luxury cruise ship. The project was facilitated through the art consultant design firm, SMC Design, located in London, UK. This sculptural glass and granite art installation presented some unique challenges. The client requested the use of granite in the project. Granite is a beautiful...
read more